Indulge in astronomical objects
Moon's age

0.0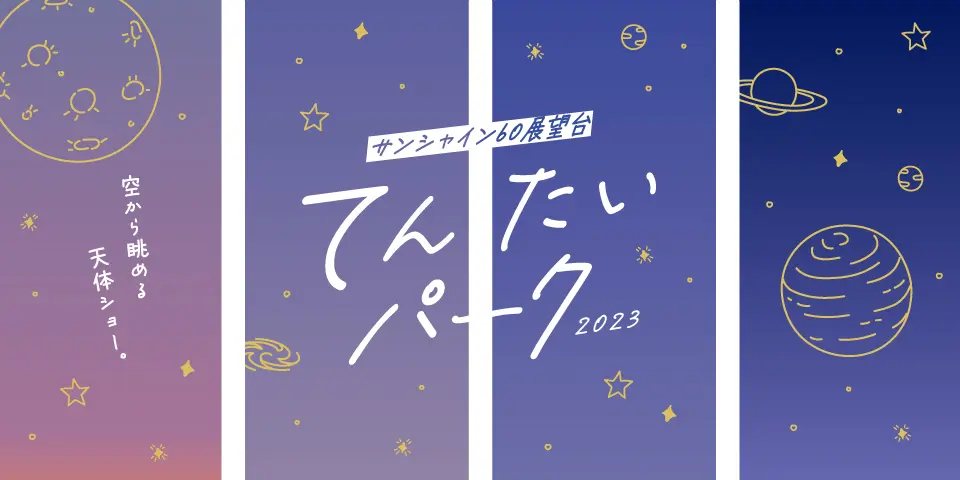 What is Astronomical Park?
Sunshine 60 Observatory is proud to present various events throughout the year.
"Astronomical event" is a generic term for all of them.
Come and join what's on at any time with your loved ones!
You can indulge in the wonderful scenery in any form at any time.
No specialized knowledge is required.
Our events welcome guests of all age groups!
In 2023, we have events on "Mid-Autumn Moon", "Diamond Fuji"
and many other tasteful themes.
They are not merely appreciation events of
astronomical phenomena- we also hold lectures on photography skills.
Let's take a closer look at the ever-changing sky and be healed by the beautiful scenery,
and the new experience in the air at Sunshine 60 Observatory.
Upcoming
events
Highlights of
Astronomical Park in 2023
In 2023, we have events on "Mid-Autumn Moon", "Diamond Fuji" and many other tasteful themes.
How to enjoy the
Astronomical Park?
Visiting with your family

"Astronomical Park" is an eye-opener in terms of astronomical objects for both parents and children.
The deeper knowledge about the night sky that we usually look up above does bring something more special and attractive.
Children are usually busy looking for topics for their voluntary study in summer vacation so we have a string of astronomical events for them!

Enjoy together with your important one

"Astronomical Park" is also a perfect romantic getaway.
Be amazed by an array of "astronomical cuisine" at TENBOU Park Cafe with astronomical objects as background- it's definitely one of your most romantic date destinations!

I'm a photography lover!

For photography lovers, we have real, true ways to indulge!
At "Astronomical Park", we have a series of lectures on how to shoot the moon in our events.
Let's capture the precious moments of wonderful astronomical phenomena with your camera and claim them as your own!