Sunshine City is a vast urban complex consisting of five buildings and comprising a great number of different facilities including an Aquarium, an Observatory, shopping centers, offices, event spaces, restaurants, a hotel, a museum, a theatre and much more, and it is visited every year by about 30 million visitors.
The 60th floor of the Sunshine 60 Building hosts the We hope you enjoy our new observation deck, designed based on the theme "Park Day, Every Day" and the concept of "sky park with fresh viewing experiences." while the Sky Restaurants can be found on the 58th and 59th floors.
The World Import Mart Building hosts amusement facilities like the "Sunshine Aquarium" conceived as a veritable "Oasis in the Sky," the Manten Konica Minolta Planetarium In Sunshine City, the NAMJATOWN indoor theme park as well as a convention center for staging a variety of events. Additionally, on the lower floors you will find two shopping centers, Shopping Center alpa and Sunshine City ALTA, which form one large shopping district; Sunshine City Fountain Plaza, located in the center of alpa, hosts a variety of different events . In addition to accommodation facilities, represented by Sunshine City Prince Hotel, the Bunka Kaikan Building hosts cultural facilities like Sunshine Theatre and Ancient Orient Museum, public structures like parking lots and a bus terminal. All these buildings form an urban space incorporating many different facilities and complete with all the diverse functions required for life in a big city.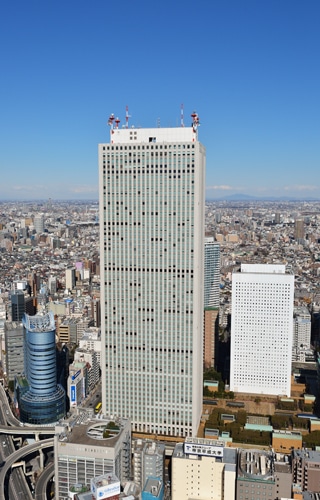 Sunshine City artworks
One of the walls in the west wing of the Sunshine 60 Building's 1st floor is decorated with "The Four Seasons of Edo" a ceramic relief which is based on the masterpiece by Japanese painter Tamako Kataoka. who has been honored with the Order of Culture. Furthermore, in the back of the coffee space (Cafe Qiuatrieme) on the 4th floor of the Sunshine 60 Building, one can admire the stained glass works "Group of human beings" and "Human and beast" based on original paintings by Ichiro Fukuzawa, also honored with the Order of Culture. Also, the office lobby on the 1st floor of the Sunshine 60 Building is decorated with the work of another recipient of the Order of Culture, Seibo Kitamura's "Sengoku warriors".The Fountain Plaza is home to a fountain and to the largest screen display (628 inches, 4.3 m high and 15.4 m wide) inside an indoor large-scale commercial facility on which are projected dynamic images, like those of the "siki" show featuring natural images evoking seasonal sensations which go straight to the heart, with original music by composer Hiroyuki Sawano.
*Images may not be projected during some of the events.
Operating company
Sunshine City is operated by Sunshine City Corporation.
Developing a safe, secure and comfortable community - About Sunshine City -
At Sunshine City, with the aim of developing a safe, secure and comfortable community, we are carrying out the initiatives described below.
Highly-safe community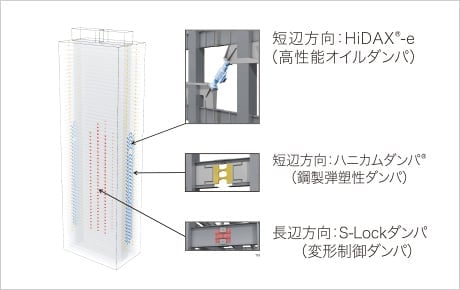 Each building, including the Sunshine 60 Building, has been certified with Level 3 Safety Evaluation (the highest level, signifying minimal danger and a safe structure) on the Tokyo Metropolitan Seismic Portal Site. In the Sunshine 60 Building, long-period earthquake ground motion proofing works have been completed recently.
Strengthening the disaster management system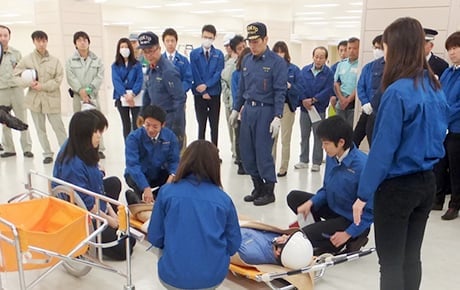 All facilities carry out several disaster preparedness drills on the assumption of large-scale earthquakes. We have spared no efforts to strengthen Sunshine City's overall disaster management system by conducting, for example, first-response drills for employees in the event of a disaster, drills for assisting people unable to return home, order-issuing drills for security guards, drills on handling disaster equipment and more.
Emergency stock boxes inside elevators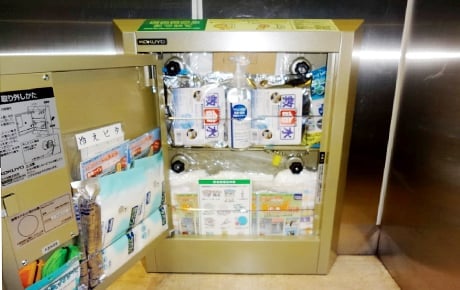 All elevators have been fitted with storage boxes containing drinking water, portable toilets and supplies in the event of a lock-down.
Emergency stock inside the elevator
Emergency drinking water, portable toilet, aluminum blanket, etc.
80 emergency reporting phones (special public phones)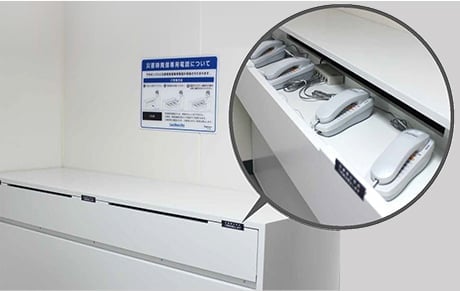 Emergency reporting phones are free of charge, dial-only phones for unrestricted communication that can be used in the event of a disaster. 80 units have been installed throughout Sunshine City and can be used even in case of power outages.
Phone locations
Sunshine 60 Building's 1F, 4F, alpa's 1F, Hirokoji, etc.
Fire protection/disaster management system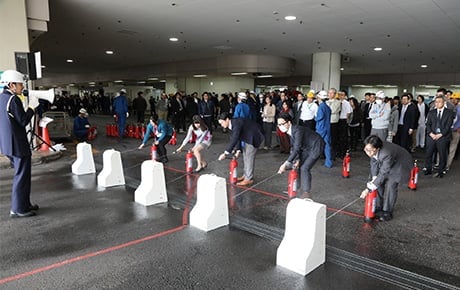 At Sunshine City, in order to prevent the occurrence of fires and to better respond in the event of a disaster, we have established a joint fire prevention and disaster management system, formulated a fire-fighting plan and set up a self-defense fire brigade, with "self-defense fire brigade drills" carried out twice a year.
Recycling of gray water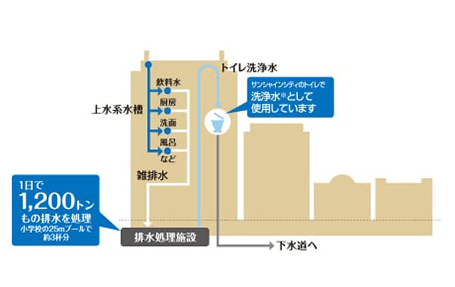 A non-fecal wastewater recycling system was introduced in Sunshine City at the start of construction work in 1978. It is Japan's first "recycled waste-water system" for single buildings and its innovative nature has generated a lot of attention. Everyday, about 1,200 tons of wastewater produced in all buildings, like kitchen and hotel bathroom wastewater, are purified in the recycled wastewater plant and reused as water for flushing toilet.
Community development that takes into account the environment and energy conservation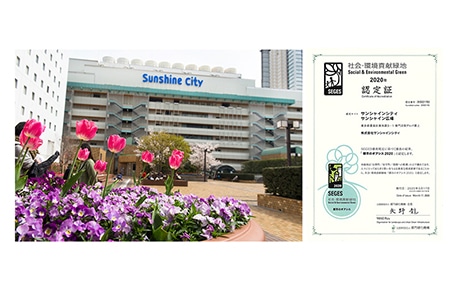 Sunshine Plaza is certified as a "city oasis" by certification systems for evaluating green initiatives based on SEGES (Social and Environmental Green Evaluation System) thus validating our efforts to provide a comfortable and safe urban green spaces.
Rest rooms with soothing high-resolution music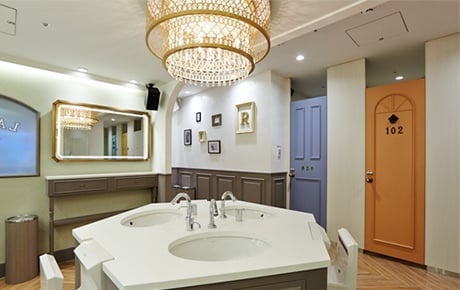 The Ladies Restroom next to the large staircase located in the alpa B1 basement south corridor contains private stalls conceived as "Apartments" where different women live. The door decorations and wallpaper in each private rooms are different, and so is the background music playing in each room, varying from dolphin-emitted ultrasounds to classical music and so on. Be sure not to miss this pleasant space full of personality.