What is the Sunshine Aquarium's
Annual Passport?
It is a very convenient pass
that lets you visit the Aquarium multiple times for the price of two single admission tickets.
Holders of the "Sunshine Aquarium's Annual Passport," whose cost is equivalent to two admission tickets, can visit the Aquarium as many times as they wish for one year.
With this convenient and very special pass, besides being eligible for special offers and receiving discounts when buying Aquarium tickets for accompanying visitors, you can also take advantage of various discounts and special offers at Sunshine City's amusement facilities and shopping/dining establishments.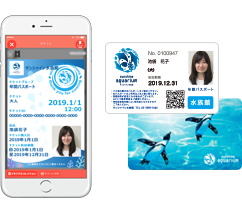 Cost of Annual Passport
Cost of Annual Passport Adults

Adults High school students or older ¥4,800

Cost of Annual Passport Children

Children Elementary/junior high school students ¥2,400

Cost of Annual Passport Pre-schoolers

Pre-schoolers 4 years or older ¥1,400
Special offers
Priority admission service

Visitors who newly purchase or renew their annual pass, as well as visitors who purchase tickets using the annual pass' special companion discount, will be offered priority admission when it is crowded! (*1)

Early admission

Right to enter the outdoor Marine Garden from 10 minutes before opening hours. A special opportunity to observe pre-opening preparations and admire the animals in all their morning glory.(*2)

Discount for accompanying visitors

A 30% discount
on the Aquarium's admission fee for up to two accompanying visitors.

※Companions should come directly to the ticket counter at the aquarium along with holders of the annual admission pass. (It is not necessary for them to obtain online numbered tickets.)

Shopping Discount at aquarium shop Aqua Pocket

5% discount (does not apply to all items )

Early renewal privilege

Extension of validity period when renewing the pass between 3 to 1 months before the expiry date (*3)

Birthday privileges

For guests visiting during the eligible 4-day period (from 3 days before your birthday to the day of your birthday), you will receive a birthday sticker as well as a special 10%OFFdiscount voucher for the aquarium shop "Aqua Pocket" (not applicable for selected items) as bonus gifts at the aquarium's welcome counter!

Free parking service

2 hours of free parking when presenting a parking ticket
together with an Annual Passport

Can be used in conjunction with other parking services (*4)
Offer is available only when visiting the Aquarium (*5)

Issuance of bicycle parking ticket

3 hours of free bicycle parking
when showing a receipt for purchase of 300 yen or more at facilities/shops (*6)
Special offers outside the Aquarium
Konica Minolta
Planetarium


"Manten" discounted rate

Approx. 50% off
for up to 2 people
including Passport holder(*8)

SKY CIRCUS Sunshine60


Observatory
entrance fee

Approx. 30% off
for up to 5 people
including Passport holder

alpa

Special offers/discounts
for up to 5 people
including Passport holder
(participating shops only) (*7)

Shinagawa Aquarium
admission fee

Approx. 20% off
for up to 5 people
including Passport holder
(*1)

Priority admission may be unavailable under certain circumstances.

(*2)

Only holders of the annual pass (members with valid annual passes) are eligible for this benefit. Companions of the holder are not eligible.

(*3)

The early renewal benefit provides an extension of your validity period after renewal according to the time you have remaining upon renewal. (Example: If you renew by 3 months before expiration, you will get an extra 3 months of validity for an extension of 15 months.) To renew a card-type Annual Passport, please come directly to the aquarium ticket counter. The electronic version of the Annual Passport can be renewed on the smartphone app.

(*4)

Facilities/shops and vending machines that do not issue receipts are excluded.

(*5)

This service is limited to visitors who entered during the Aquarium's opening hours.

(*6)

Present the receipt issued on the day you used the service, the parking certificate and the "Aquarium's Annual Passport" at the Aquarium shop (Aqua Pocket) or at a service ticket delivery point.
Delivery points: General Disaster Control Center, Bunka Kaikan Building Disaster Control Center, Shopping Center "alpa" Information Counter ( 4 points)

(*7)

For alpa participating shops and services, please check the list of shops offering preferential treatment.

(*8)

Up to 2 customers per show including the purchaser・not applicable for online purchases and premium sheets.
How to purchase
Buy a card-type Annual Passport at the Aquarium's Ticket Counter

(buy a new one or renew an old one)
At the ticket counter you can purchase new card-type Annual Passports or renew your existing ones.
※

Card-type Annual Passports can be updated to electronic Annual Passports (app).
Renewal procedure
Annual Passports can be renewed at the Aquarium's Ticket Counter. Make sure to take along your current Annual Passport.
Passports cannot be renewed online or by mail.
Annual Passports can also be renewed by proxies.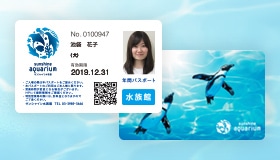 Buy an electronic Passport (app) online

(buy a new one or renew an old one)
Electronic Passports (app) are sold online
*

Electronic Annual Passports (app) are only sold at the regular price. When buying a new electronic Annual Passport (app) or renewing an old one, the discount for persons with disabilities shall not apply.

*

Registration of necessary items, including a face photograph, is required. Please register in person before visiting the Aquarium.

*

The app for the electronic Annual pass can only be purchased by a smartphone. If unable to install the "Webket +" app, you will not be able to use the electronic version of the Passport.

*

If you do not have an e-mail address you cannot register for the electronic Passport. Please purchase the card type at the Aquarium's ticket counter.

*

If you apply online for an Annual Passport, you will not be eligible for a refund.
Buy here

(details in Japanese)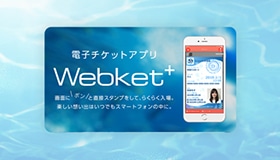 Discover the advantages of the electronic version of the Annual Pass (app)!
No need to wait in line to buy it

You can buy/renew the electronic pass without having to wait in line at the Aquarium's ticket counter!

Carry it around in your smartphone

The pass is always with you inside your smartphone!

Collective management

You can manage the Annual Passports of your whole family!

Free re-issue

No re-issue fee when you lose your pass! (You can continue using it even from a new smartphone once you log in to the app again)
For holders of card-type passports
Even if you already have a card-type Annual Passport, you can switch to the electronic version of the Annual Passport (app)!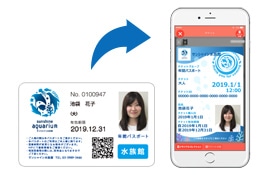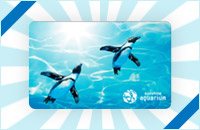 Why not give an Annual Passport as a gift?
Special Annual Passports are the perfect gift for family and friends.
You can buy them at the Aquarium's ticket counter.
*

Cannot be purchased online.
Notes on
Annual Passports
When registering for a new Annual Passport you will need to have your picture taken. Those wishing to be issued a card-type Annual Passport are requested to come in person.
Admission is limited to those whose name is specified on the Passport. Annual Passports may not be loaned or transferred.
When visiting the Aquarium, please present your Annual Passport to the Welcome counter staff. If you do not present it, you will be requested to pay the general admission fee. Also, you may be asked to submit a personal ID for identification purposes. Customers using the electronic version of the Passport (app) must show the app screen to the staff and will not be allowed to enter the Aquarium by simply presenting a screenshot.
Passes cannot be refunded during the period of validity. In case of lost or damaged passports, a separate fee (500 yen) will be charged.
Please contact the Aquarium in case of changes to the address, name and phone number you registered when applying.
Sunshine Aquarium TEL: 03-3989-3466 (10:00 to 18:00)
Handling of personal information
Sunshine Aquarium will appropriately manage the personal information you submit and will use it for issuing/managing Annual Passports and providing information to those who have given their consent to such service, and will not use it for any other purposes.
Furthermore, your personal information will not be disclosed/provided to third parties without your consent.