【Weekdays only】Otter`s Playtime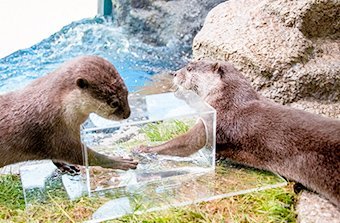 Asian small-clawed otters are popular animals among visitors due to their adorable expressions and movements. Our staff will explain the ecological background and unique traits of these animals while during their feeding time to showcase how the otters play with various toys and their habits of finding fish.
The Asian small-clawed otter is the smallest species of otters and it can be found in Southeast Asia and southern China.

During Otter Playing Time, you can see how Asian small-clawed otters prey on fish using their extremely agile paws and their lively behavior which is not always visible. At the same time, you can learn more about individual otters, as well as the behavior and ecological background of these animals.
General schedule
loading...
There is no holding