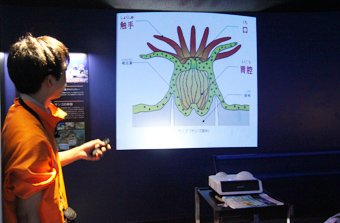 Special stories and anecdotes involving the Aquarium's living creatures delivered by their handlers.
A limited-time event during which you can listen to in-depth chat from the handlers who are actually involved in raising the animals.

The handlers' stories, far from dealing only with the animals and their feeding habits, dig deep into core topics. The content of the handlers' talks varies each time.

This event is recommended for all those who wish to know more about the Aquarium. Since the content of the talks differs depending on individual staff, and since each staff is knowledgeable on many topics, it can be enjoyed no matte how many times you attend.
Content and venue will vary depending on the date.
Event dates varies depending on the Aquarium's opening hours.
General schedule
loading...
There is no holding