Sea lions' performance time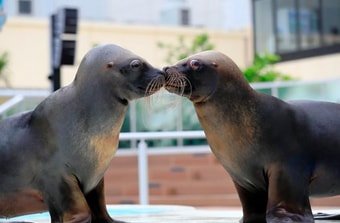 An open-stage performance that will have you thinking you can even hear the sea lions' breathing sounds.
This performance features hugely amiable sea lions balancing balls on their noses, cheerfully chirping in loud voices and showing off their strength and skills in close collaboration with their trainers.

There are no partitions of any kind between the spectators' seats and the performing stage so you can enjoy from up close the sea lions' many comical routines and breathtaking skills on the open stage.
The content of the performance may vary depending on the season.
General schedule
loading...
There is no holding