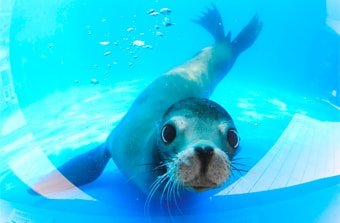 Listen to commentary on the habits of sea lions while they are being fed on "Sea Lions Beach."
The "Sunshine Aqua Ring" and "Sea Lions Beach" located in the Sunshine Aquarium's outdoor Marine Garden, are home to two species of sea lions, the California Sea Lion and the South American Sea Lion.

This event features a single sea lion, a different one every day, and you will hear explanations on its habitat, lifestyle and feeding habits.

The explanations include a limited-time event during which you will get to peek inside the mouth of a sea lion, observe the shape of its fins, admire its abilities and watch its behavior while listening to live commentary.
General schedule
loading...
There is no holding