Underwater performance time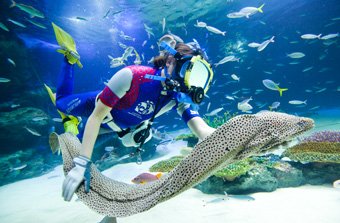 With the help of underwater microphones, our divers introduce the many fish swimming in the blue sea against a background of white sand.
The "Sunshine Lagoon," the Aquarium's largest tank, hosts many different species of fish, both large and small. Our staff dive in the tank and introduce the fish and rays as they draw close.

Also, sharks and moray eels, rarely seen as they normally hide behind rocks or inside their dens, can only be see swimming with the divers during the performance.

Our divers, who are very intimate with the fish, will tell you a lot of fun facts about them.
The content of the performance varies depending on the season and the animals' conditions.
General schedule
loading...
There is no holding