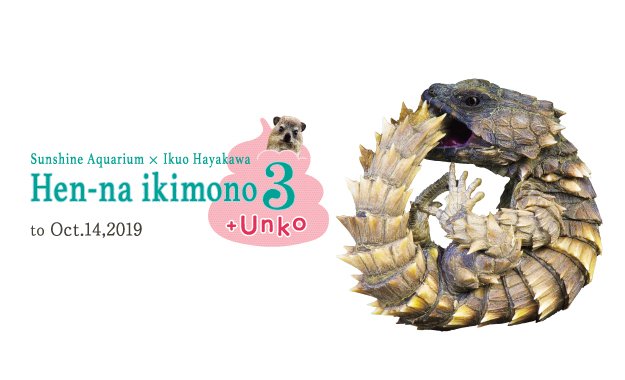 The popular exhibition "Hen-na Ikimono 3", which attracted some 200,000 people in the past, will be held from March 20, 2019.
Detailed information
Schedule of activities
2019/03/20(Wed)~2019/07/05(Fri)
Venue
Sunshine Aquarium
Price
600yen
*Priced at 400 yen for visitors of the aquarium or the observatory etc., and the annual pass holders.
URL
https://sunshinecity.jp/file/aquarium/heniki3/
The popular exhibition "Hen-na Ikimono 3" in collaboration with Ikuo Hayakawa, the author of the best-selling book "Hen-na Ikimono" will be held, after marking some 200,000 visitors in the previous collaboration 1 and 2.
This special exhibition will feature creatures with unique looks and habits, selected by Ikuo Hayakawa and the aquarium staff. For example, the Peters' elephantnose fish has a chin which looks like an elephant's trunk, the Armadillo girdled lizard puts its tail in its mouth and rolls up into a ball when it feels any danger, and the arrow crab has a spindly body.
This will be the last special exhibition of the Heisei Period. Don't miss out on the chance to see these interesting animals!
☆"Hen-na Ikimono" Special Promotion☆
To celebrate the opening of the exhibition "Hen-na Ikimono",
guests who present the receipt of payment or the ticket of this exhibition at the ticket counter of the Sunshine 60 Observatory on alpa B1 will get a 50% discount for the observatory.
■Special Discount
Adults:1,200yen→600yen
Students (high school / university / technical colleges):900yen→450yen
Children (elementary / middle school):600yen→300yen
Toddlers (age 4 and up):300yen→150yen
※Limited to a maximum of 5 persons..
※Only available at the Sunshine 60 Observatory Ticket Counter.
※Cannot combine with other services.
■Period
Valid until July 5
※Not available from April 27 to May 6.
Recommended information
loading...